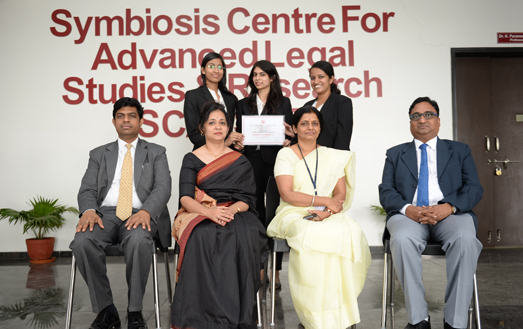 Symbiosis Law School, Pune team comprising of Shruti Raina (V year B.B.A.LL.B. as Oralist), Chandralekha Akkiraju (III year B.A.LL.B. as Oralist) and Aditi Warrier (III year B.B.A.LL.B. as Researcher) were adjudged as Semi-Finalists in the 12th Annual Willem C. Vis (East) International Commercial Arbitration Moot, 2015,held at City University Hong Kong from March 15, 2015 – March 22, 2015, which saw participation from 108 Teams around the World.
Symbiosis Law School, Pune defeated Wuhan University (China), Waseda University (Japan), Loyala University (U.S.A.) and the defending champions of Vis Moot, Singapore Management University (Singapore) in Preliminary Round – I, Preliminary Round – II, Preliminary Round – III and Preliminary Round – IV respectively. The team defeated Bucerius Law School (Germany), Bond University(U.S.A.) and NUS Singapore in the Knock Out round (Top 32 Teams), Octa-Rounds (Top 16 teams) and Quarter Final Rounds (Top 08 teams) respectively. The team made it to the semi finals but unfortunately lost to Arizona State University (U.S.A.).
The goal of this Moot Court Competition was to foster the study of International Commercial Law and Arbitration for Resolution of International Business Disputes through its application to a concrete problem of a client and to train budding lawyers of tomorrow in methods of Alternative Dispute Resolution (ADR).
This year's moot was conducted in collaboration with ICC (International Chamber of Commerce). The problem had three major issues to be addressed. The first issue dealt with joinder of a company to arbitration proceedings. The second issue dealt with the validity of Emergency Arbitrator's order under the new ICC rules, and the last issue dealt with avoidance of contract in commodity trade market. The participating teams had to address the ICC Rules, 2012; UNCITRAL (United Nations Commission on International Trade Law) Model Law; CISG (Convention on International Sale of Goods); UNIDROIT Principles, 2010; INCOTERMS(International Commercial Terms), 2010 and UCP (Uniform Custom Practices) 600 rules.

The scheme of the moot consisted of a two-fold approach; preparation of written memoranda & oral pleadings. The written memorandum consisted of a CLAIMANT & a RESPONDENT memo, which was submitted to the organisers of the moot with all the arguments in detail and authorities cited. Oral Pleadings posed a major challenge before the team in terms of toning down the pace of their Oral Arguments within a time limit of 14 minutes for non-English speaking tribunals in Hong Kong.


This year's pre-moot was conducted in National Law University, Delhi in collaboration with ICC India. The Pre-Moot was an important factor which helped the team to perform well in the final moot in Hong Kong. They faced two international teams in the pre-moot which provided them a platform to practice and gave an overview as how to face participants from other jurisdictions during the final rounds in Hong Kong. The pre-moot built the confidence of the team as well as helped them in identifying their weak points from both the sides of the case. They were asked various questions by the judges which helped them clear their stance on the case.
Apart from the opportunity provided by Symbiosis Law School, Pune under the guidance of Dr. Shashikala Gurpur, Fulbright Scholar, Director, Symbiosis Law School, Pune, Dean, Faculty of Law, Symbiosis International University to participate in an international event, with international exposure and learning experience with World-Class Infrastructure and facilities for initiating, helping and advancing Mooting Culture in the budding lawyers, the team learnt that Arbitration is an alternative method of resolving disputes and the key is not to prove your point like in the courts but to offer an amicable solution to the dispute in question. A reflection of this approach can further enhance the whole arbitral process.