Symbiosis Law School, Pune played host to a U.K. delegation facilitated by the British Council on the 20th of January, 2016. The delegation consisted of esteemed academicians namely: Dr. Charlotte Skeet from University of Sussex, Prof. Matthew Sadler from Staffordshire University, Prof. John Tingle from Nottingham Law School, Dr. Simon Sneddon from University of Northampton, Prof. Andrew Baker from Liverpool John Moors University and Prof. Mel Kenny from University of Exeter. Also present from the British Council were Sharon Memis, Director, West India, Mahesh Jaisinghani, Head Resources, West India, GunjanNarula, Head, British Council, Pune and Rupal Parikh, Project Manager. Also present was Ms. MugdhaChandrachud representing Symbiosis Centre for International Education.

The central purpose of this Symposium that washeld in collaboration with Symbiosis Law School, Pune was to seek further association and partnerships with the faculty and student members and encourage the process of internationalization.

The academicians gave lectures on several contemporary issues of law like Human Rights, Law of Torts, Law of Contracts, Medical and Health Law, Environmental Law, Banking Law, EU Competition Law and International Trade Law. These sessions with students were extremely knowledgeable and interactive.

During their presence at Symbiosis Law School, Pune,a Faculty Discussion was held wherein the academicians gave a brief overview of their respective institutesand discussions were held to promote several international exchanges like Summer Schools, Faculty and Student Exchange Programmes, Joint Research and Publications, Study Trips and Semesters Abroad programs.

Theconference ended with an intention to strengthen the pre-existing associations and to develop further links.The interactions and dialoguesvery well received by the Faculty and Students alike andwill give a fillip to several bilateral modes of collaboration to take place in the near future. This exchange of knowledge will be mutually beneficially to all the institutions involved and lead to the academic enrichment of students and faculty members.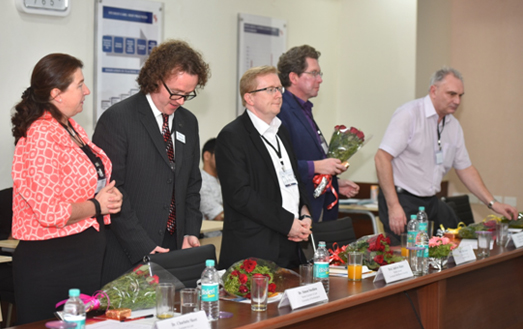 From Left to Right: Dr Charolette Skeet, Prof Mel Kenny, Prof Andrew Baker, Dr Simon Sleddon, Prof John Tingle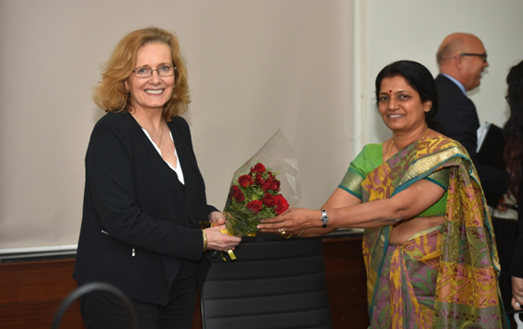 L-R: Ms. Sharon Memis& Dr. ShashikalaGurpur
L-R: Ms. Sharon Memis& Dr. ShashikalaGurpur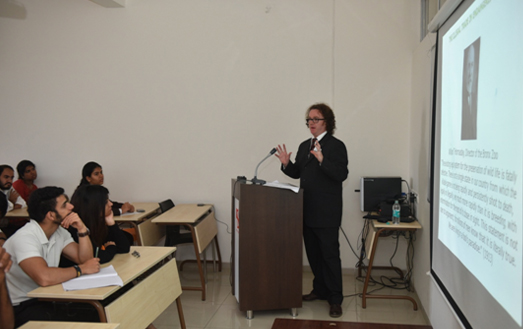 Prof Mel Kenny adressing BA/BBALLB III year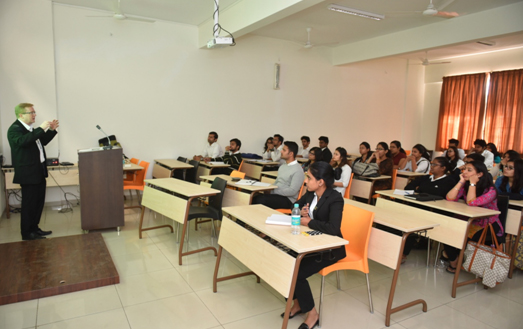 Prof Andrew Baker adressing BA/BBALLB IV Year & Members of the Corporate Law Cell
Prof Matthew Sadler adressing BBALLB I Year (Hons.)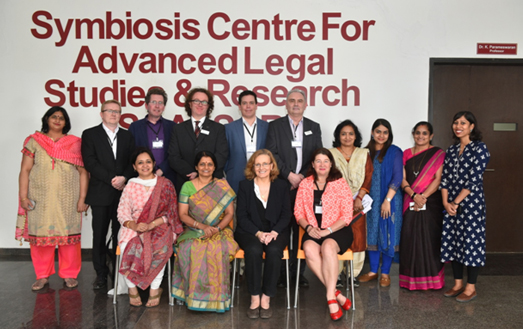 Left to Right: (Sitting) Dr Bindu Ronald, Dr Shashikala Gurpur, Ms. Sharon Memis, Dr Charolette Skeet (Standing) Prof. Sujata Arya, Prof. Andrew Baker, Dr. Simon Sleddon, Prof. Mel Kenny, Prof Matthew Sadler, Prof. John Tingle, Dr. Aparajita Mohanty, Prof Pallavi Mishra, Prof Vanishree Ramanathan, Prof Ritambara Das.